Pulse Chiropractic and Wellness of Houston TX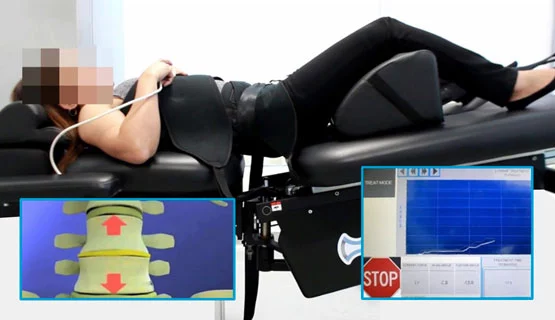 What is Spinal Decompression Therapy?
Spinal decompression therapy is a nonsurgical painless way to decompress the discs, which takes the pressure off the nerve root. This allows healing and decreases pain in the affected area.
Spinal decompression therapy is a non-invasive, nonsurgical treatment method that mobilizes the spine and relieves pressure within the spinal discs. Patients are placed on a mobilized traction table that gradually stretches the spine, which promotes healing for bulging discs and eliminates chronic back pain. For more information visit WebMD.
This motorized device is the new-and-improved version of spinal traction that can more effectively target areas of the spine. Nonsurgical spinal decompression is proven to provide therapeutic benefits for those that are experiencing these conditions:
● Back pain or neck pain
● Sciatica – pain, or weakness extending down the leg
● Bulging or herniated discs
● Degenerative disk disease
● Spinal nerve disorders
How does Spinal Decompression Therapy work?
Usually, a treatment session lasts roughly 30 to 45 minutes. Before beginning, the patient is fastened to the table using belts. Using technology, the table will adjust to specifically target different levels in the spine. It works by creating negative pressure in the discs of the spinal column, which allows for the movement of oxygen and nutrient-dense fluids into each disc. In turn, this reduces nerve pressure and pain that is felt throughout the spinal column.
With more serious conditions of chronic back pain, the typical treatment plan requires 15-20 treatment sessions that transpire over a 4-6 week period. This form of treatment works well in conjunction with other targeted therapies, such as Apollo IV Laser Therapy, acupuncture, electrical stimulation, myofascial release, and mobility exercises. For new patients seeking help for back pain, the program of care will be individualized to accommodate their case.
With chiropractic care, there's always 'homework' to do that aids the healing process. Following each spinal decompression treatment, patients are expected to drink lots of water and make lifestyle adjustments that benefit overall posture and mobility.
Side-note: the time you spend in-office, to create positive affect and decompress the discs, can be undone by what you do at home if you're not adopting the right lifestyle adjustments.
Pulse Chiropractic and Wellness, located in the Memorial Houston and Houston Galleria area, provides state-of-the-art Spinal Decompression Therapy. Contact us to schedule an appointment.