Thanks to social media, we are all familiar with the popular concept, "Personal Wellness", at least on a surface level. For three decades, the construct of personal wellness has been integral in my approach to chiropractic care – long before it became a health product buzzword. The chiropractic discipline is focused on pain prevention and bodily maintenance. Both are essential factors behind wellness and overall health. As a chiropractor, I always advocate for solutions to patients' concerns that address the systemic, root causes behind their symptoms.
Why Wellness Matters
Wellness involves the process of taking lifestyle choices and actions that lead toward a life of happiness, health, and longevity. Since multiple body systems are involved in health, each must be considered and cared for in order to maximize a person's ability to live.
If even one part is not functioning as it should, the entire body becomes compromised – making it prone to degradation, injury, and further dysfunction as a whole. This has guided me to create patient treatment plans that integrate the major body systems into one framework – the wellness triad. This is composed of three main components of personal health: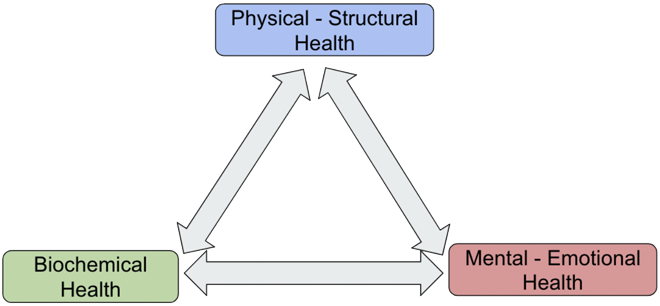 Physical-Structural Health:
(EXERCISE), body mechanics, muscular strength, skeletal flexibility, posture habits, etc.
Biochemical Health
(NUTRITION) natural, balanced diet; nutritional management, etc.
Mental-Emotional Health
(MENTAL) stress management, coping with anxiety, etc.
How Wellness Works
Most importantly, I treat each new patient as I would want to be treated, caring for them like I would for family. The goal is to help patients become capable to care for themselves. I try to inform patients on how to keep their wellness in balance, so their discomfort doesn't keep recurring.
Here is a step-by-step breakdown of the experience I aim to provide:
Review health history
Conduct in-depth examination of problems or symptoms experienced
Establish a working diagnosis – order extra diagnostic testing (x-ray, MRI, blood work, nutritional screen) if needed
Assess potential for chiropractic treatment; make referrals to specialists if further analysis needed
Discuss Personal Health Goals + Construct Personalized Treatment Plan
Prior to initiating care, we discuss the recommended number of treatments, a timeframe, and descriptions of the therapy types (adjustment, modalities, rehabilitation) that will be administered. Patients are assessed with each visit, in order to determine progress and reformulate the action plan if needed. I always provide time for patients to discuss concerns they may have since their last visit.
Overall, my goal in providing care is to teach and guide patients to become independent and 'tend their own garden'. To do this, I focus on helping people to establish the daily routines, lifestyle habits, and mental techniques in order to maintain optimum health. Hopefully, my coaching and care will provide each person with the skills and knowledge to resolve their problems for good.
Pulse Chiropractic and Wellness is conveniently located on the 1st floor of the Piney Point Office building in Harris County, Houston TX. To get started please visit the New Patient section for more information and to schedule an appointment.